About Direct Support Professional (DSP) Careers
What Is A Direct Support Professional?
Direct support professionals (DSPs) are people who work directly with people with developmental disabilities. Their aim is assisting the individual to become integrated into his /her community or the least restrictive environment.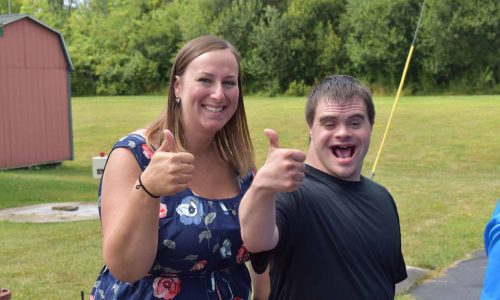 Direct support professionals are people who assists an individual with a developmental disability to lead a self-directed life and contribute to the community, assists with activities of daily living if needed, and encourages attitudes and behaviors that enhance community inclusion. A DSP may provide supports to a person with a disability at home, work, school, church, and other community places. A DSP also acts as an advocate for the disabled individual, in communicating their needs, self-expression and goals.
We are proud of our DSPs and the work that they do. The relationships our DSPs are able to have with this individuals is instrumental in their growth and transformation. Many of our DSPs have been on our team for many years and have made careers out of helping our individuals every day. We would love to have you on our team, check out the complete list of open positions within our organization on our careers page.
For more information on DSPs please watch the informational video below or watch it on YouTube.